How many types of exercises can you list? Tonnes right?
Walking, jogging, weight training, pilates, swimming, yoga, boxing, martial arts, trekking, tennis, snowboarding, gymnastics, basketball, crossfit.. the list goes on!
Who else gets bored at the gym? Have you ever wanted to try a new type of exercise or are you sick of the same environment where you have been exercising? it can lead to lack of motivation for sure!
My general fitness routine consists on swimming, running, yoga and a bit of resistance training. Yet with these 4 I was bored and felt unmotivated to get out there. So, I decided to change things up. I've been to the Himalayan Mountains and one trek was a 10km return at 2,828 meters, so looking more close to home I recently climbed a mountain in the Glasshouse Mountains that I hadn't already climbed. The mighty Mount Beerwah at 556 meters (1,824 ft), the highest of the 10 volcanic plugs in the region, and more like 2 hours, not 10! It had recently re-opened in January 2017 after being closed and doesn't cost anything – bonus!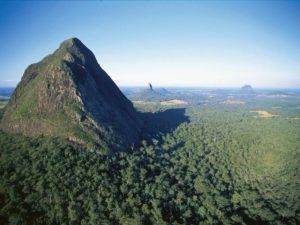 The climb wasn't about how many laps I could swim or what my pace was in running, it was about trying something new, getting outside in the sunshine and fresh air, but most importantly to challenge myself as it's a steep climb. Oh and don't let age define what you can and cannot do. I passed a 70 year old couple on the mountain, taking it slow but doing it! I must advise, if you are new to mountain climbing or bush walking then start with a smaller mountain like Ngun Ngun or Mount Coolum that are very popular to climb on the Sunshine Coast.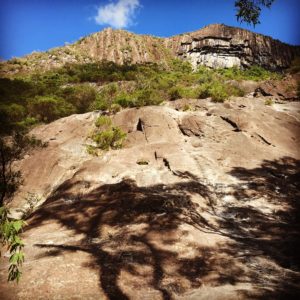 What did I get out of the climb? First of all, 2 hours of fresh Autumn crisp air, sunshine sunshine sunshine, elements of conquering fear when I thought I couldn't climb any further as my legs were jelly and the top seemed so far away. I also had such a clear head space – I wasn't thinking about last week or tomorrow, I was right there trying to find the next step to go higher while breathing heavily. Reaching the summit was tough but I did it and felt stoked with my achievement. Coming down was quicker and lots of sliding. Thank god I had good trekking shoes on to grip the rock face, and I was wearing gloves to protect my hands! At the bottom, I ended up with ripped pants and a few cuts but god did I feel on top of the world! I conquered the mother of mountains but also myself !
Soaking in an epsom salt bath that night as I knew I would be sore from using VERY different muscles that I had been using, all I could think of was what I could do next to add to my fitness regime and to challenge myself. What did I do? I looked for a bigger mountain – Mount Warning at 1,156 meters! Then I started planning my next break to go snowboarding. Why? Because I haven't done it and life is about experiences!
So if you are feeling unmotivated with doing fitness and then feel guilty for not doing it, try something new, especially something outdoors. Mountain climbing, a game of tennis, join a team sport or a outdoor bootcamp. Just try it. Trust me, you will love it!
TK xx