Chinese Herbal Medicine
 is one of the oldest and most long standing healthcare systems in the world. The number of herbs used in Oriental Medicine has steadily increased during the past two thousand years.
Herbs are used to support and nourish the body, clear disease pathogens and enhance your well being to bring you back into optimal health. Herbs are administered alongside your acupuncture treatment and dietary and lifestyle changes, only if they are needed.
By taking herbs many of Tanya's clients experience:
restful sleep
stronger digestion and ease of digestive complaints
boosted immunity and energy levels
clearing of colds, flu and chronic cough
reduced stress and anxiety and enhanced emotional well being
minimal pre-mentrual symptoms and menstrual pain
enhanced fertility and ease through menopause
as well as treatment for a wide range of other conditions in both adults and children.
Herbal granules, capsules and pills are safe, effective, non addictive and are easy and convenient to use for all. All herbs are TGA (Australian Government health regulated) approved.
Herbs can act on the body as powerfully as pharmaceutical drugs and are treated with the same care and respect. Herb-drug interaction is taken seriously by qualified health practitioners so it is important for you practitioner to know exactly what other medicines you may be taking.
Nutrition
is a large part of how Tanya works with people to optimise energy levels, support healthy digestive function and strengthen the body. Chinese medicine includes seasonal living which means supporting our bodies with certain foods through Winter compared to  Summer, eating locally grown foods and what is in season, as well as what is right for us as individuals.
Small dietary changes can improve your overall digestion function, plus your immune system, hormonal ups and downs, fatigue and even sporting performance.
Flower essences are made from the flower petals that have been soaked in clean water under the suns rays. They specifically support the emotional and mental well being of a person, in the same way that herbal medicine supports other areas of our health. Tanya took a shine to the Australian native flowers specifically as the flowers are grown in the wild, not cultivated, and feel that little bit more special that the flowers are in our Australian natural environment, such as the Banksia and Waratah flowers.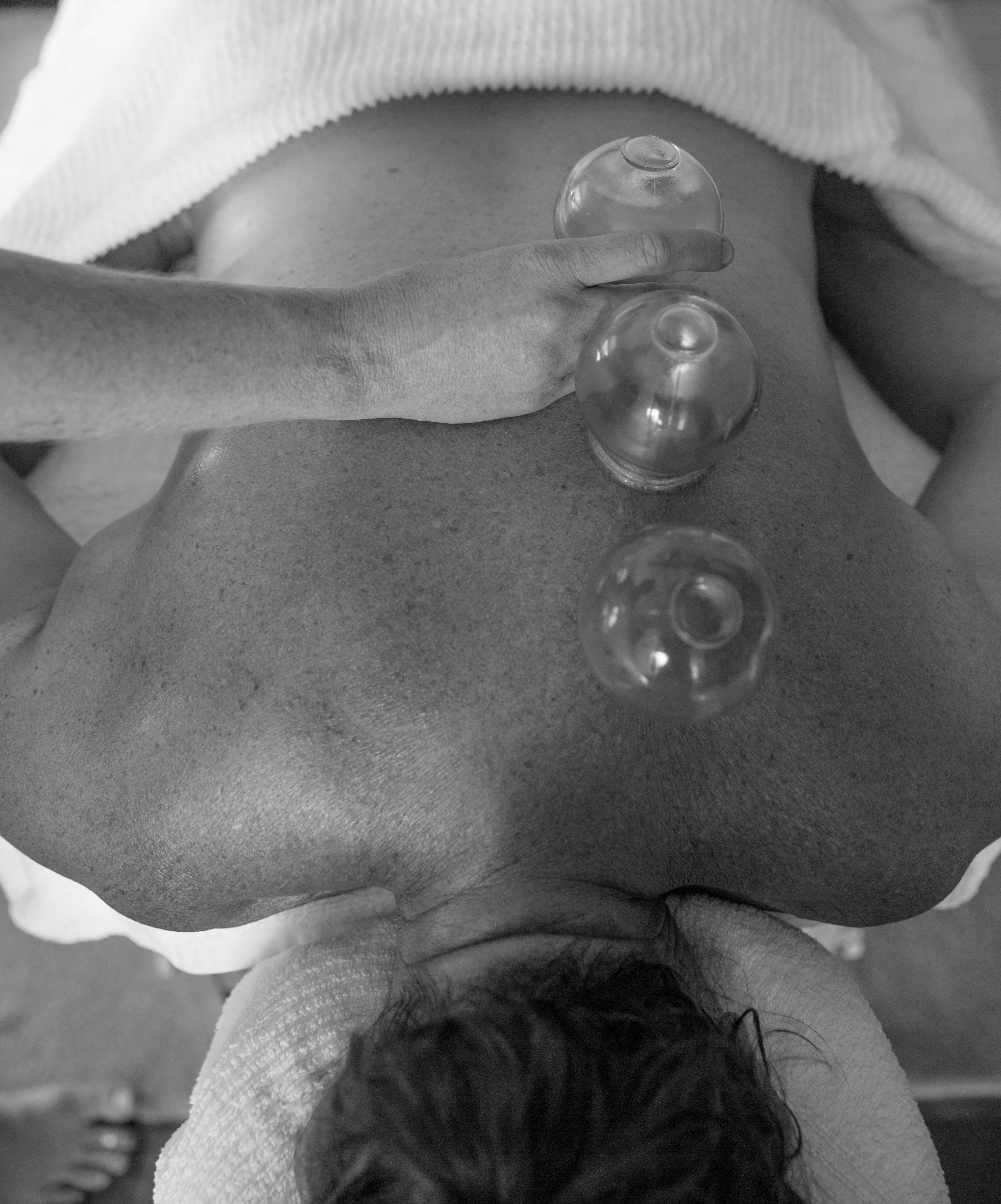 Cupping
 involves sterile glass cups applied to an area of the body using a suction effect. This technique is used to assist in the circulation of blood and lymphatic fluids.
Manual therapy includes remedial therapy, palpation and using tools such as a ceramic spoon on the body. These techniques are used to assist in the circulation of blood and metabolic waste that accumulate in the tissues and muscles. These therapies in combination with acupuncture break up the blockages lodged in the body (such as a painful shoulder) so that there is free circulation. Cupping is also very helpful in drawing out a flu virus/cold from the body.
Cupping may leave marks on the skin for a few days or up to a week but rest assured the marks are not bruises. Additional techniques are pain free, safe and effective, with fast results.